Fundraiser Honors Sister Through Legacy Gift of Her Own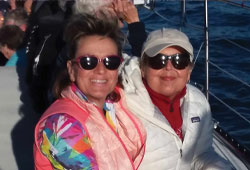 Pictured: Safia Keller and her sister, Tania Marcus Storm, on one of the best "bonus" days before Tania passed away in 2017
Safia Keller, Director of Development for the College of Education, names Huntsman Cancer Institute and Spencer Fox Eccles School of Medicine as recipients of life insurance benefits.
When Safia Keller's sister, Tania, was diagnosed with stage three multiple myeloma more than a decade ago, Safia knew the prognosis wasn't good. What she didn't know was just how good the staff at Huntsman Cancer Institute (HCI) was going to make the next several years of her sister's life.
"The treatment Tania received there was incredible and extended her life for many good years. It's a debt we can never repay," said Safia.
That debt is being repaid as Safia, in her current role as the Director of Development for the College of Education, knows how much donations matter to nonprofits. The impact of her sister's care was so significant to her family that she wanted to make a substantial gift, but she knew that wouldn't be possible on a fundraiser's salary. Nevertheless, knowing that some of the best assets to give to charity do not come from cash, she examined her finances and decided she wanted HCI and the Spencer Fox Eccles School of Medicine to benefit from a life insurance policy she already owned. Doing so has enabled her to make a much larger gift and establish two funds: one supporting multiple myeloma research at HCI and a scholarship that encourages subspecialty training in blood cancers.
"I'm just so happy Tania got those bonus years thanks to the work and expertise of the people at Huntsman," Safia remarked.
By naming Huntsman Cancer Foundation as the recipient of the proceeds of her life insurance policy, Safia is supporting the education and work of future physicians and staff who will care for patients like Safia's sister after her lifetime. She also hopes to start funding the scholarship during her lifetime so she can meet the students who will go on to treat hematologic cancers—thereby ensuring many more "bonus" days for patients for years to come.
For more information about establishing a legacy or planned gift supporting HCI or cancer-related activities at the University of Utah, please email legacygiving@huntsmanfoundation.org or visit thehuntsman.org/plannedgiving.
© Pentera, Inc. Planned giving content. All rights reserved.
Disclaimer