Bohne Endows Scholarship in His Parents' Names
with Estate-Plan Gift to the U
David Bohne and Thomas Bye
Dr. Emmitt and Verda Bohne were born and raised in rural Sanpete County, Utah. Originally accepted to Stanford University in 1920, Emmitt was quite nervous about the potential culture shock of moving to the Bay Area from rural Utah and decided to attend the University of Utah to get himself acclimated to city life.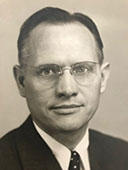 Dr. Emmitt Bohne
Eventually, Emmitt transferred to Stanford and received his bachelor's, master's, and doctorate degrees but never forgot his Utah roots. He had a lifelong career as an educator and retired as superintendent of schools for Santa Clara County, California. Verda as well had a career in education where she taught elementary in Sanpete County, prior to her move to San Francisco to marry Emmitt.
Verda Bohne
In wanting to honor his parents in a special way, David Bohne and his husband Thomas Bye decided to establish the Dr. Emmitt and Verda Bohne Endowed Scholarship Fund, a full-ride scholarship for students from Sanpete County, with a gift from their estate. David said "I believe this scholarship will enable deserving Sanpete students the opportunity to achieve their full potential. My parents would be so proud to have their names associated with this educational opportunity."
In 2020, after Congress passed the CARES Act which provided tax benefits for certain types of charitable gifts, David and Tom decided to partially fund their scholarship early. By doing so, they now will have the opportunity to see the passion for education David's parents instilled in him live on in future generations of Sanpete County students.
© Pentera, Inc. Planned giving content. All rights reserved.
Disclaimer