LINDQUIST SCHOLARS PERPETUATE COMMUNITY BUILDING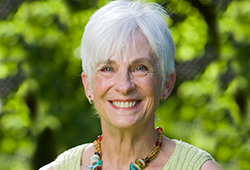 Kathryn Lindquist
More than two decades ago, Kathryn Lindquist, who received her doctorate in humanities from the U in 1998, was working as an adjunct instructor when a student in one of her University of Utah courses introduced her to the Lowell Bennion Community Service Center. Impressed by the excellence of the students engaged there, she initiated a relationship that has evolved over the years. Kathryn's involvement with the center has ranged from advisory board work to creating an endowed scholarship in her mother's name. The Telitha Ellis Lindquist Community Service Endowed Scholarship offers service-focused awards to U students who have exhibited commitment to service. Recipients of the scholarship are recognized as Lindquist Scholars.
"I see these wonderful young people perpetuating community building," says Kathryn. "They are the reason for my commitment. You see the community becoming stronger because of their involvement with the center."
For more than 25 years the Bennion Center has provided opportunities for student engagement in volunteer service and civic participation through academic courses.
Students take the lead in making decisions and shaping the center's actions and organizational structures. These leadership opportunities generate interest among students who see themselves as potential leaders and those already engaged in the community. They inspire students new to community service and leadership who subsequently help the center maintain its unique energy, vitality, and curiosity.
"Kathryn has been instrumental in strengthening board involvement and engagement. She is our mission in action," says Linda P. Dunn, Bennion Center director. "You cannot do this work without the models that show the students how it works and challenge them to think about what to do."
Kathryn has been concerned about how the scholarships will be sustained. By including a gift to the Bennion Center in her will, her legacy of service will extend beyond her lifetime. It is a legacy of core values that circles back to what her parents taught her: Use your education, skills, time, and monetary resources to build your community.
"I feel as if I'm a conduit from my parents to my children and grandchildren, who will recognize two generations of values in this gift," says Kathryn. "Hopefully, they will expand my commitment with gifts and service of their own."
© Pentera, Inc. Planned giving content. All rights reserved.
Disclaimer