Diane and Gene Liu (College of Education)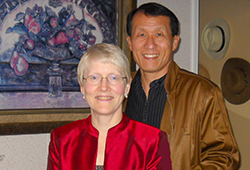 Diane and Gene Liu
In 1986 a letter arrived in the mail from the University of Utah to a young man, Gene Liu, in China. Written by Professor Howard Sloane, the letter stated that the Department of Educational Psychology had accepted Gene as a doctoral candidate. It was the beginning of a mentorship that would change Gene's life forever and help him fulfill his mother's dreams. Now, with a desire to give back to his alma mater, Gene Liu and his wife Diane are making a legacy gift that will establish the Howard N. Sloane Mentoring Initiative in the College of Education. It is Gene and Diane's dream that the Initiative will create a culture of support and success that will help students thrive at the U.
Here is Gene Liu's story in his own words:
The background information:
I was born in a family of complex socioeconomic makeup in Shanghai, China in, 1957, at a time of tremendous turmoil. My mother was from a highly privileged and wealthy family, even by today's western standards. She fell in love with a near-penniless man, my father. My mother, after being evacuated with my grandparents to Singapore after the fall of the Nationalist government in China, managed to elope back to Shanghai and married my father against the fiercest opposition from everyone in her family in her pursuit of love and individual freedom. But the reality of life disappointed her to the cruelest extreme and, after years of heart-wrenching battles with my father and an increasingly hostile world around her, she succumbed her life to allow me to grow up to live a normal life as an uncondemned man. I was five or six at the time. My father, having been sent to work in the much less developed Hunan Province as part of a government mandated manufacturing relocation, didn't want me to lose the opportunity of growing up in a big city. He thus paid various families in Shanghai to care for me at different times. The families who took me in were more interested in the extra money rather than raising me as a child. I was therefore left mostly on my own.
Through the years of school, as all my teachers came to know me, each lent me a hand. They made sure I had what an "orphaned" child needed to not just survive but to succeed. And I did. Before I left high school, my last teacher made sure I didn't have to go to the remote countryside to work on the farms. Instead, I was given a job in Shanghai with a construction company. I was happy as I finally gained my independence and freedom in a big city. Then I came upon the letters and writings, all in English, that my mother left behind for me. I was curious and motivated to learn what was in them, so I took up English on my own. Years later, when China started to open up to the outside world, I sat through a ten-day college entrance examination and passed. I was then admitted to the Shanghai Institute of Foreign Language, a prestigious foreign language university in the country at the time. With enough English I came to understand my mother's dream. I realized I must set my sights higher, much, much higher.
Thus I embarked on a journey to attain graduate education in the United States or Canada. I spent every penny of my meager monthly pay on the postage for applying and communicating with dozens of universities. Every university I applied to replied with an acceptance letter but no financial assistance. I had a dilemma—the Chinese government said, "You can go, but you may not take any money (which I didn't have) with you." The U.S. government said, "You are welcome to come, but you must bring enough money with you." So, this endeavor of mine for pursuing graduate education abroad went on fruitlessly for about six years until one day when I opened a letter from the University of Utah. It was signed by a professor by the name of Howard N. Sloane. The letter stated that the Department of Educational Psychology had accepted me as a Ph.D. candidate with a tuition waiver plus a $3,000 first-year stipend. You can imagine the ecstasy I was in. I simply couldn't believe what I was reading. With the letter I was able to obtain my passport from the Chinese government and a student visa from the U.S. consulate in Shanghai. On January 7, 1987, I flew to Salt Lake City with $60 the Chinese government allowed me to bring. After spending $5 and change for a meal at Shanghai International Airport, I landed in Salt Lake City International Airport with $54 and change in my pocket. I had no idea what would happen next. Then Howard came and took me to the University dorm and paid for the first three nights of my stay. The rest is history.
But my ecstasy was quickly met with harsh reality. It took me no time to realize the daunting challenges I was facing; from where to stay, what classes to take, and how to find money to pay for the books and food to learning to interact with students and faculty. The biggest shock of all was the degree of freedom I was suddenly experiencing. I remembered asking things that people who grew up in this country took for granted, "What classes should I take?" "What should I do now?" "Where should I go?" The answer I got was always the same, "It's up to you!" For a man who was used to being told where to go, what to do, and never having to worry about being fed, I was lost at sea.
Why Howard meant so much to me:
The acceptance letter from the University of Utah through Howard N. Sloane merely opened the door to a dream I had. Walking through that door was by no means a cake walk, and there was no guarantee I could make it through and succeed. It took an extraordinary individual to see me through. Howard understood what a student like me was up against and what I needed to succeed in a completely foreign environment. He was less concerned about the subject matter because he knew I would be naturally acquiring it in classes I would be taking. Instead, he focused on the intangibles—things that really made a difference later in my life. He taught me how to learn and what questions to ask, and he gave me encouragement for things that might seem insignificant.
I remember the first class that I took from Michael Gardener. Every few minutes the class burst into laughter at his jokes, but my English was too limited to appreciate any of them. At the end of the class, he told everyone to have the assignment type-written in two days. I had no idea how I could get my hands on a typewriter, much less complete the assignment. I didn't know what he really meant at the time when the computer was first introduced on the University campus. Back in China before I left, I had never heard of or seen a computer. I did all my typing on a typewriter. So, I went looking all over the campus to find a typewriter and could not find one until someone pointed me to the computer lab on the main floor of the library. The guy said, "The typewriters are in there." That was the first time I saw a computer and understood what Professor Gardener was referring to. So, I immediately went in and took a class. When I came out, I was so excited. I couldn't believe I had already learned to type a few paragraphs on a computer. I took the printout of some meaningless paragraphs I typed up on the computer and went to see Howard. He took a quick glance at it. I could see what was in his eyes—he was bewildered by what he was looking at, wondering why I showed him a piece of childlike paper. He handed it back to me without a word and walked away. For a moment, my heart sank. But, two minutes later, Howard rushed back to me with a big smile on his face. He said, "Liu, good job! How do you like the computer?" (I went by "Liu" when I first came to the U of U.) That was the kind of minute and detailed attention he gave to his students. His encouragement went a long way for me. He was patient with me, no matter what mistakes I made or embarrassment I caused him. And I know very well how much embarrassment I caused him. But he remained true and guided me through every step of the way, even when I was utterly discouraged and overwhelmed by the mountains of never-ending obstacles in my path. He was more than a professor and a mentor to me. He was a father whom I never had. He changed my life forever and allowed me to become the person I am today. He gave me the opportunity to fulfil the dream my mother left behind. I know for certain she would be proud if she were around today.
Why mentoring is an important part of education: The way my wife and I look at all things we do in life (and education is no exception) is the same way the military planners do. A foot soldier must be supported in order to win a battle. Before the military planners send a soldier to battle, they make sure a steady supply line is established and secured. After they send the soldier to battle, they make sure there will be a continuous supply of ammunition, intelligence, and backup. The same applies to education. A mentoring system is a support system. Its goal is to make sure the students and faculty alike have everything they need in order to achieve their fullest potential. The specifics of this support system can be exhaustive and may require development and refinement over time.
My wife and I hope, through the Howard N. Sloane Mentoring Initiative, that the College of Education will create a culture and environment in which students and faculty alike will feel welcomed and supported while pursuing their educational aspirations. The College, in turn, will be a magnet that attracts highly motivated and qualified individuals to come to study, to teach, and to thrive.
- Liangjun (Gene) Liu
The following is a letter Gene sent to Professor Howard Sloane in 2008.
Dear Howard,
As I reflect on this eve of another new year, I found once again that I know of no other man who has had a more profound impact on my life than you. I see these memories as vividly as yesterday.
On a snowy night of January 7, 1987, you came and asked unexpectedly, "Mr. Liu?" as I walked off the concourse at Salt Lake City International Airport—utterly unaware of what might lay before my path. Just few short moments earlier, as the plane landed on the runway, another voice asked me, "Where will you be staying?" I replied with a smile, "I do not know, but I won't worry for now." For at that moment I was engrossed in the thought of freedom that was to be bestowed upon me. Then you came and drove me in a black Honda Accord through the most magnificent snow I had ever seen. You put me up in the first heated dorm room I had ever lived in. As you told me you had paid for the first three nights of my stay, I felt inside my pocket—there was $54 and change. That was twenty-two years ago as I landed in a place I had only known sketchily through the University brochures.
Year after year since that snowy night you thus nurtured me like your own and taught me to understand what life was meant to be and to learn to love with all I have deep in my heart. You opened the door to a life I now cherish more than anything else that I will be grateful for as long as I live. You gave me what no man had given me—the freedom and purpose of life. And, on this past Christmas day, as my wife asked me what my wishes were, I looked in her blue eyes and whispered in tears, "I have all I could desire because of the freedom a good man gave me and the love I found in you." So, on this eve, let me sing you this song I wrote just for you.
I am a bird who has left the nest,
to soar high over the sea,
to free his soul and being,
and to search for his love of the dark blue sea.
I am a bird who loves the dark blue sea,
to soar where he will see,
to mate the love he will seek,
and to nest where he will mate.
I am a bird who carries your love,
to where he will soar,
to where he will nest,
and to whom he will love.
I am a bird who will always remember how he came to his being,
though he won't return to where he came to being,
he will always soar with your love and heart.
So, I want you know my love shall remain,
while I will soar across the dark blue sea.
Forever yours,
P.S., Howard, will you say "Happy New Year!" to Judy for me and Diane?—December 28, 2008
© Pentera, Inc. Planned giving content. All rights reserved.
Disclaimer