Sylvia Prahl (Moran Eye Center)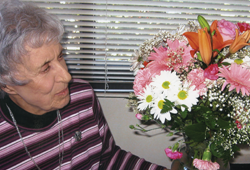 Sylvia Prahl
Tell Sylvia Prahl that life is an adventure and she may correct you. To this sharp and always interested octogenarian, life presented many adventures. And she's not finished. Her next adventure is helping others through a legacy gift to the Moran Eye Center.
Sylvia immigrated to the United States from her native Switzerland in 1956, a 25-year-old X-ray technician open to new horizons. In Seattle she met and married an equally bold soul, James W. Prahl, a medical intern at Virginia Mason Hospital.
When James earned a Ph.D. in biochemistry at the University of Washington, it was the beginning of a stellar research career. James wrote his papers, and Sylvia—more adept in grammar and language arts—proofread and polished the final drafts.
James' expertise eventually brought the couple to the University of Utah in 1975, where James continued his research while serving as an associate professor of pathology.
In 1979 James died in a mountain climbing accident and Sylvia found herself alone—she and James had no children. But the Prahls had come to care deeply about the University, its reputation for research, and the young minds being trained on campus.
Sylvia created, along with others, the James W. Prahl Endowment Fund, which supports outstanding School of Medicine Ph.D. graduates. This proved to be a satisfying way to honor her husband's memory while advancing promising, young researchers.
Yet the start of the new millennium left Sylvia wanting to do more. "My thinking was that our population is getting older and older, and at one time or another people will increasingly be having trouble with their vision. This is a way I can help, by backing research to save and restore eyesight."
In addition to her regular gifts to Moran over the past decade, Sylvia has made the Moran Eye Center the beneficiary of her trust and charitable gift annuities. Through her legacy gift, Sylvia is leaving a legacy that will create a brighter tomorrow for countless others.
© Pentera, Inc. Planned giving content. All rights reserved.
Disclaimer