Phyllis Tims (Department of Modern Dance)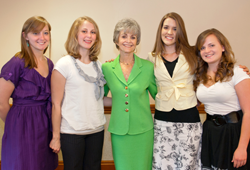 Phyllis Haskell Tims
Phyllis Haskell Tims has a long history at the University of Utah. She has been a student, a faculty member, department chair, and finally a fine arts dean before retiring to become a river runner with her husband, Douglas Tims.
Throughout her history at the U, she's been a giver. In February 2011, Phyllis announced a legacy gift to benefit the existing Phyllis A. Haskell Endowed Scholarship Fund in the Department of Modern Dance. In making the University a beneficiary of her retirement fund, she continues a rich personal legacy of supporting fine arts education at the U of U.
A grand dame of dance, Phyllis' influence and contribution to the arts cannot be overstated. In 1999 she became dean of the College of Fine Arts and University of Utah's associate vice president for the arts and she learned more about fundraising. "One of the most important things I learned was that giving was not the province just of the wealthy. The generosity of others and the spirit of giving truly touched me," Phyllis says. Wealthy is a relative term, and for Phyllis it is simply about the joy of giving. "I remember the first time I ever gave a gift, and I was so surprised by how it made me feel. I somehow hadn't anticipated that. I felt so much more than what I had given. It was a really beautiful moment for me."
Oftentimes, the moment of giving can be moving for the donor, but the impact on the recipient is always profound. At the recent University of Utah College of Fine Arts First Annual Scholarship Recognition Luncheon, Phyllis had the opportunity to see and hear the impact of her generosity. Recipients of her named scholarship expressed heartfelt gratitude for the financial help and, more important, they expressed the validation and support they felt as fine art students and dancers.
Phyllis knows firsthand the impact financial support has on a student; she could not have attended college without it. When her scholarship is awarded, she asks that the students commit to giving back to the Department of Modern Dance. "It's a gift that's handed to the next generation, there's a legacy involved. So, paying it back, paying it forward, that's why it's important for me," Phyllis says.
Perhaps someday, one of these students will make their own legacy gift to the U. For Phyllis, that would be the ultimate reward.
© Pentera, Inc. Planned giving content. All rights reserved.
Disclaimer