The Drs. Wolf: Learners, Teachers, and Givers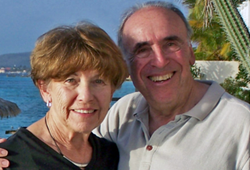 Joan and Harold Wolf
Harold and Joan Wolf first arrived in the Salt Lake Valley in 1956, leaving behind their native Massachusetts. Harold Wolf came to do his graduate studies in pharmacology and toxicology at the University of Utah and Joan to complete her bachelor's degree in education. Although the 22-year-old didn't know it at the time, Harold Wolf would return in 1976 to serve as the College of Pharmacy's third dean and become a driving force behind one of the longest running, federally funded research programs at the University of Utah. Later in life, he would also put the College of Pharmacy in his will—reflecting his family's long commitment to the value of education and a commitment to the mission of the U.
When Harold became dean, he made an unusual request. He asked to teach in addition to his duties as dean. From his previous faculty position at Ohio State University, Harold knew he thrived on contact with students. Passionate about explaining complex scientific ideas, Harold taught during his entire tenure as dean—encouraging students to develop the fertile minds of health professionals. He also strongly promoted student participation in the NIH funded, Anticonvulsant Drug Development Program. This 35-year project has helped to develop most of the antiepileptic drugs used today. Although no longer director, Harold remains actively involved in this ongoing translational research effort.
When it came time to making their estate plan, it was not a difficult decision for Harold and Joan to include the U. Dr. Joan Wolf is Professor Emerita of special education at the University, so they both know that the institution is exceptional. Funded by their bequest gift, The Harold H. and Joan S. Wolf Faculty Award Endowment Fund will recognize the early career achievement and promise of a young faculty member in the College of Pharmacy. Both Harold and Joan remember how they struggled to make it through the lean times in the early days of their careers.
The Drs. Wolf, who never intended to call it home permanently, make Utah a better place by giving back to the next generation of learners and teachers found at the U.
© Pentera, Inc. Planned giving content. All rights reserved.
Disclaimer